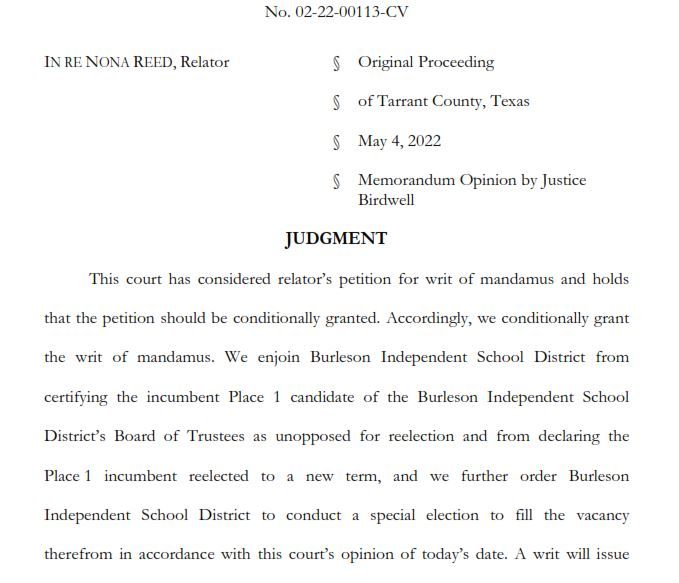 By Warren Norred 
May 04, 2022
Source: Norredlaw.com
Download full 23 page opinion Here:  OPINION PDF
[The Burleson ISD] chose to behave unreasonably, insisting that the ballot application process is really a "gotcha" trap, rather than one designed by the legislature to achieve a "just and reasonable result." - Second Court of Appeal's Memorandum of Opinion, In re Nona Reed. 
The Second Court of Appeals ruled today that Burleson ISD failed when it threw out Nona Reed's application and then cancelled its trustee elections. The Court has required Burleson to set an election. 
This is a huge win against those who seek to abuse rules to benefit incumbents and others in power! 
Nona's application had a couple of errors in it, but all the information necessary to process the application was present. Though the application contained no fatal flaw, the Burleson ISD decision-makers decided to reject the application. Then the full Board of Trustees voted to cancel the election. How convenient to find minor flaws in an application and then reject the candidate and maintain unchallenged power! 
Fortunately, the Court has authored a well-written opinion that is not merely right because it comes to a conclusion with which I agree, but also because it teaches how to look at these issues and warns tiny tyrants who want to take a magnifying glass and seek excuses to stop challengers to their position that the challenger may not decide to accept the injustice without a fight. And we're glad that Nona Reed stepped up! 
The sad reality is that Burleson ISD is no different from a hundred other government and party organizations run by self-interested individuals who use any excuse to keep their own friends as part of the ruling junta, irrespective of right and wrong. I've seen it in at least three different counties in the last six months. It's always wrong. Even some of those who I consider a friend have failed to resist the temptation until called on it. 
Norred Law routinely receives phone calls right after application deadlines every election cycle from folks from all parts of Texas who are involved in an election and have either: a) have a rejected application and are kept from running for office, or b) have received a challenger who is not qualified to be in the race. 
If you find yourself in this situation, you have a short window to fix it. This case went the right way in part because the Second Court of Appeals could craft a solution by ordering Burleson ISD to hold the election. But realize that a court can't always provide a remedy. Many election issues cannot be fixed because the fight starts too late.  But for now, in this case, let the tiny tyrants see that some candidates won't take it, will obtain representation, have a good court to file it in, and the court will do nothing but apply the law, and the would-be kings have to recognize their duty to accept qualified challengers. 
Congratulations, Nona Reed! 
Categories: 
Cautionary Tales, 
White Hat Law